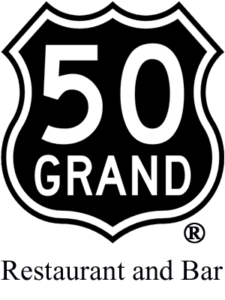 50 Grand is a local restaurant, featuring seasonal house made food, house cut, locally sourced, grass fed Angus beef, local produce, and local wines & beers.  Thank you for supporting local ranchers, farmers, wineries, breweries, and 50 Grand R & B.
MENU
STARTERS
Hot Artichoke Dip   (V)
Hot cheesy (parmesan & asiago) Artichoke and roasted bell pepper with a side of fried caramelized onion naan.
Beer Bacon Mac & Cheese    – cup    –  bowl
Smokey cheesy elbow pasta.  Simple perfection!
Fries 
(V)
House cut potato fries. 
Add asiago parmesan cheese,  Garlic, Truffle oil,  or Beer Bacon Cheese Sauce
Bread of the Day (V)
Warm bread. Ask for today's choice.
SALADS
Classic Caesar Salad  
(V)
Romaine lettuce with classic Caesar dressing, croutons, and Asiago Parmesan cheese crisp
Add grilled chicken, fresh white Spanish Anchovies.
Wedge Salad  (V)
Iceberg lettuce, cherry tomato, cucumber, thin red onion, carrots, bacon, blue cheese dressing. 
House Salad  (V)
Fresh crisp Romaine lettuce, with shredded carrot, cherry tomatoes, cucumber, thin red onions, parmesan cheese, and croutons, with your choice of dressing.
Add grilled chicken.
Dressings: House made Raspberry Vinaigrette, Caesar, Blue Cheese, Ranch, Thousand Island, & Italian
BURGERS
50 G All American Cheeseburger and Fries
½ lb ground patty of brisket, chuck, and short-rib, or ¼ lb ground chuck and sirloin patty.
Includes lettuce, tomato, onion, and pickle chips.
Served on a brioche bun.
Choice of American, cheddar, provolone, or Swiss cheese. 
Add bacon, blue cheese, or haystack. Egg, grilled onion, and red bell pepper available also.
 Beyond Burger & Fries (V)
Plant based vegan burger served on brioche bun, with lettuce, tomato, and pickle on side.
COMFORT
Fish & Chips
Flash fried house beer battered white fish, with house cut fries. 
Twice Cooked St. Louis Ribs

Pork ribs are braised & covered with a sweet-tangy orange barbecue sauce.
Served with country potatoes and house salad.
Crispy Chicken Tenders & Fries
Crispy chicken your choice of buffalo sauce, BBQ, ketchup, ranch, blue cheese. Tossed or Sauce on the Side.
CHICKEN
Chicken Sandwich   w/fries  or  w/o fries
Grilled Chicken Sandwich

Served on brioche bun with lettuce, tomato, Swiss cheese, and chipotle mayonnaise.
Served with choice of fries or side salad

House Battered & Fried Chicken Sandwich

Served on brioche bun with lettuce, pickle, and chipotle mayonnaise.
Served with choice of fries or side salad.
SANDWICHES
Reuben Sandwich
Tender slices of Pastrami, Swiss cheese, sauerkraut, pickle chips, and caramelized onions with house made Thousand Island dressing on toasted marble rye.
Chicago Style Italian Beef
Thinly sliced house baked round steak, au jus, on a French roll. Choose either Spicy Giardiniera or Sweet pepper topping. Upgrades: Provolone, Marinara, or Italian sausage
Italian Sausage Sandwich
Italian sausage on a French roll. Choose either Spicy Giardiniera or Sweet pepper topping. Additions: Provolone, or Marinara
Meatball Sandwich
Meatballs, Provolone, and Marinara on Ciabatta Bread.
Meatloaf Sandwich
Bacon stuffed meatloaf with BBQ sauce, cheddar, & onions on Ciabatta Bread
Grilled Cheese Sandwich
Sourdough, tomato, and your choice of cheese: provolone, Gruyere, American, or cheddar.
Avocado Toast
Rye toast, avocado, fine diced tomato and onion, red-pepper flakes, and Arugula.
Smoky Tomato Sandwich
.Rye toast, vine ripe tomatoes, smoky vegan mayo, basil, and Arugula. Taste like a BLT…without the "B"
EXTRA SIDES & LITE BITES
Small  side salad (V)             Veggies  (V)              Rice (V)                 Mushroom   (V)
Country potatos
(V)  
           Mashed Potato w/gravy      Beer Bacon Mac & Cheese  
DESSERTS
Ice Cream
Vanilla bean ice cream with your choice of chocolate or caramel sauce
Sundae
Two scoops of vanilla ice cream (choices above). Drizzled with chocolate or caramel sauce, whipped cream, and topped with a cherry.  Add a banana for an extra charge
Ice Cream Float
One scoop of ice cream choice above. With Root Beer, Mr. Pibb, Sprite, Coke, Orange Fanta, or Ginger ale
Chocolate Chunk Cookie
House made extra large chocolate chip cookie.
(V) = Ask to make it vegetarian.
Disclaimer:  We cannot guarantee gluten, nut, and allergen free dishes.  We do have nuts in our facility.  We take no responsibility for products produced outside our family and/or what they may contain or have been exposed to.  Menus are subject to change due to seasonality and availability of the best quality ingredients.
18% Gratuity added to groups of 8 or more.