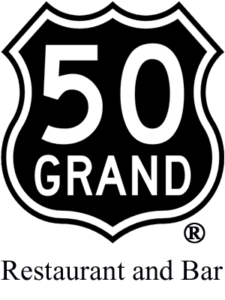 50 Grand is a local restaurant, featuring seasonal house made food; house cut, locally sourced, grass fed prime grade Angus beef, local produce, and loal wines & beers.  Thank you for supporting local ranchers, farmers, wineries, breweries, and 50 Grand R & B.
MENU
STARTERS
Hot Artichoke Dip   (V)
Hot cheesy (parmesan & asiago) Artichoke with fried caramelized onion naan.
Beer Bacon Mac & Cheese    – cup    –  bowl
Smokey cheesy elbow pasta.  Simple perfection!
Crispy Chicken Tenders & Fries
Crispy chicken your choice of buffalo sauce, BBQ, ketchup, ranch, blue cheese. Tossed or Sauce on the Side.
Fries   
(V)
Choice of home style potato fries or sweet potato fries. 
Add asiago parmesan cheese,  Garlic, Truffle oil,  or Poutine
SALADS
Classic Caesar Salad  (V)
Fresh crisp Romaine lettuce with house made classic Caesar dressing, garlic crouton, and Asiago Parmesan cheese crisp / Add grilled chicken, fresh white Spanish Anchovies, or grilled shrimp.
Wedge Salad  (V)
Crisp iceberg lettuce, heirloom cherry tomato, cucumber, thin red onion, shredded carrot, bacon, blue cheese dressing. 
House Salad  (V)
Fresh crisp Romaine lettuce, with shredded carrot, heirloom tomatoes, cucumber, pickled onions, blue cheese, and house made croutons, with your choice of dressing.
Add grilled chicken or grilled shrimp.
Dressings: House made Raspberry Vinaigrette, Caesar, Blue Cheese, Ranch, Thousand Island, & Italian
BEEF
All steaks are locally sourced, grass fed, beef.
See additional steak enhancement choices below.
The Original Chicken Fried Prime Rib   –
50 Grand is home of the ORIGINAL Chicken Fried Prime Rib. Prime Rib, battered in Panko batter and fried. Served with red mashed potatoes, gravy, and seasonal vegetables. 
Bacon Wrapped Meatloaf
Mixed with BBQ sauce, carrots, onions, and bacon. Served with mash/gravy and seasonal veggies. 
50 G All American Cheeseburger and Fries
½ lb Ground combination of brisket, chuck, and short-rib. (On the pick) Lettuce, tomato, pickle chips.
On brioche roll with house dressing on the side.
Choice of American, cheddar, provolone, or Swiss cheese. 
Filet Mignon
4oz or 8oz  grass fed Harris Ranch filet on a crispy fried onion haystack. Served with country potatoes and seasonal vegetables.
Rib Eye
14 oz grass fed Harris Ranch rib eye on crispy fried onion haystack. Served with country potatoes and seasonal vegetables.
Additional Steak Enhancements
Cured Egg Yoke, Blue Cheese Butter, Herb Butter, Mushrooms, Grilled onion and red bell pepper, Baked Shrimp for Surf & Turf 
 Cooking temperatures:
Rare – very red, cool center
Medium rare – red warm center
Medium – pink warm center
Medium well – slightly pink warm center (Expect 20 minute cook time)
Well – charbroiled throughout, no pink (Expect 20+ minute cook time)
PORK
Twice Cooked St. Louis Ribs
Half Rack  /  Full Rack  /  Al la carte
Pork ribs are braised & covered with a sweet-tangy orange barbecue sauce.
Served with country potatoes and house salad.
Pork Chops and Apple Sauce
16oz Thick Cut bone-in pork chop marinated in local apple cider, grilled over Applewood, smoked to perfection.
Served with mashed potatoes & seasonal vegetables. 
CHICKEN
Roasted Chicken  –
A ½ chicken, brined then roasted in our orange barbecue sauce. Served with mash, gravy, and seasonal vegetables.
FISH
Fish & Chips
Flash fried house battered white fish, with home style fries.
Catch of the Day
Ask you server for the fish of the day.
PASTA
Patabilities: pasta you build
Pasta-Spaghetti, Fettuccini, Elbow
Sauce-Marinara (V), Alfredo (V), Garlic oil (V)
Additions-Meatballs (2), Grilled Chicken, Shrimp, Mushrooms (V), Tuscan (V)
Served with house made focaccia.
FLATBREADS
Grizzly Flatbread – Meat lover  
Pollock Pizza – Portabella, Bacon, Blue Cheese…
Camino – Chicken, Bacon, Garlic…
Margherita Flatbread (V) – Basil, Tomato, Mozzarella  
You Build Flatbread…
Build your own ($ for each item)
bacon, sausage, mozzarella, portabella, onion, bell pepper, fire roasted tomato, pickled onion, feta, chicken, parmesan.
VEGETARIAN (V) / VEGAN
Take note throughout the menu, items listed as (V), can be made vegetarian–some with milk products; or Vegan.
Portabella Burger & Fries (V)
Grilled portabella, grilled onions, and red bell peppers. Served on a brioche bun with lettuce, tomato, and a pickle on the side.
Black Bean Fritters and Pico (V)
Black bean fritters, skillet fried. Served with Pico de Gallo on vegetarian rice. Side of dairy free Tziki sauce.
EXTRA SIDES & LITE BITES
Small  side salad (V)             Veggies  (V)              Rice (V)                 Mushroom   (V)
Country potatos (V)              Mashed Potato w/gravy      Beer Bacon Mac & Cheese  
DESSERTS
 Lovely Lemon Cheesecake
Lemon cheese cake with cookie crust, a rich lemon curd, lemon zest, & drizzled with berry sauce.
Bananas Foster Cake
Brown butter cake with flambéed bananas or apples, brown sugar, & Meyer's Rum.
Topped with a scoop of Vanilla ice cream.
 Grandma's Sticky Toffee Pudding
Savory and sweet. All house made warm date cake,
 on top of Gran Gala Crème Anglaise, topped with toffee sauce.
Lavender Honey Berries (V)
Mixed berries with lavender flavored local honey.
Add Dairy Free Coconut Gellato or Vanilla Ice Cream.
Ice Cream
Vanilla, Dairy Free Vanilla Gellato
Sundae
Two scoops of vanilla ice cream (choices above).
Drizzled with chocolate or caramel sauce, whipped cream, and topped with a cherry.  Add a banana for 1-
Ice Cream Float
One scoop of ice cream choice above. With Root Beer, Mr. Pibb, Sprite, Coke, Orange Fanta, or Ginger ale
Scoop of Ice Cream
See choices above.
Vanilla Ice Cream with Espresso (Affogato)
A bowl of Vanilla ice cream w/espresso poured in the middle.
(V) = Ask to make it vegetarian.
Disclaimer:  We cannot guarantee gluten, nut, and allergen free dishes.  We do have nuts in our facility.  We take no responsibility for products produced outside our family and/or what they may contain or have been exposed to.  Menus are subject to change due to seasonality and availability of the best quality ingredients.
18% Gratuity added to groups of 8 or more.